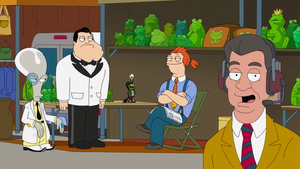 Daniel Patrick Pugh (born May 15, 1956), professionally known as Dan Patrick, is an American sportscaster, radio personality, and actor, known primarily for The Dan Patrick Show.
Dan provides his own voice in "For Black Eyes Only" when Tchochkie Schmear (Klaus) makes an insult invoking Janeane Garofalo.
Ad blocker interference detected!
Wikia is a free-to-use site that makes money from advertising. We have a modified experience for viewers using ad blockers

Wikia is not accessible if you've made further modifications. Remove the custom ad blocker rule(s) and the page will load as expected.