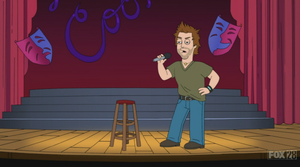 Dane Jeffrey Cook (born March 18, 1972) is an American stand-up comedian and film actor. He has released five comedy albums: Harmful If Swallowed; Retaliation; Vicious Circle; Rough Around The Edges: Live From Madison Square Garden; and Isolated Incident.
Dane appears in "Wheels & the Legman and the Case of Grandpa's Key" when Steve Smith as Wheels tells him he thinks he is a great performer.
Ad blocker interference detected!
Wikia is a free-to-use site that makes money from advertising. We have a modified experience for viewers using ad blockers

Wikia is not accessible if you've made further modifications. Remove the custom ad blocker rule(s) and the page will load as expected.