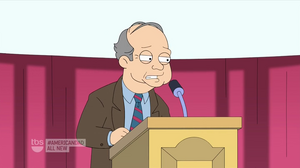 Daniel is the soft-spoken host of the writing awards in "Manhattan Magical Murder Mystery Tour".
As Francine is up for consideration for a "Best Lonely Housewife Detective Novella - Soft Core" award for her story The Cobra in the Bag. Daniel tries to announce the winner, but his quiet voice get him insulted as he notes that he is an editor, rather than a speaker. When Francine fails to show to accept the award, he then gives it to her competition, D.O. Rothy.
After discovering that Roger first faked the kidnapping, and then is actually kidnapped later, Roger and Steve, as "Wheels and the Legman" confront Rothy in the hotel bar, only to have a solid alibi from Daniel that they were having sex together.
Ad blocker interference detected!
Wikia is a free-to-use site that makes money from advertising. We have a modified experience for viewers using ad blockers

Wikia is not accessible if you've made further modifications. Remove the custom ad blocker rule(s) and the page will load as expected.