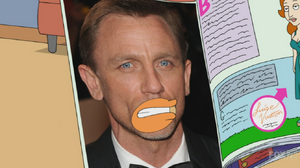 Daniel Wroughton Craig (born 2 March 1968) is an English actor best known for playing British secret agent James Bond in a 2006 reboot of the film series which began in 1962.
In "Dr. Klaustus", Roger discovers he can only take Klaus' advice seriously by holding up a copy of US Weekly magazine with Craig's picture with a hole where Roger was feeding him so he doesn't see Klaus as a fish.
Ad blocker interference detected!
Wikia is a free-to-use site that makes money from advertising. We have a modified experience for viewers using ad blockers

Wikia is not accessible if you've made further modifications. Remove the custom ad blocker rule(s) and the page will load as expected.