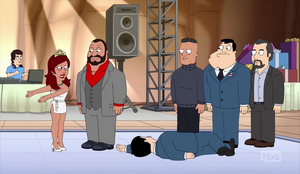 Dasha is the daughter of an arms smuggler wanted by the CIA in "Standard Deviation".
When Stan is mistaken for Avery Bullock during a DJ battle, he is kidnapped and taken to cliff side castle. When Stan is able to convince them that they have the wrong guy, they intend to throw him over the cliff anyways. But when Dasha complains about the DJ at her birthday party, Stan offers to fill in as the original DJ is thrown over the cliff. To win the previous DJ battle over Bullock, Stan had copied a set from Youtube onto a flash drive, which is accidentally destroyed. He fashions a new one by pulling raw materials out of a cliff face and performs beautifully, only to discover he is still on a hallucinogenic trip thanks to Hayley trying to inspire him to perform in the original battle which has yet to happen.
Dasha is voiced by Arielle Kebbel.
Ad blocker interference detected!
Wikia is a free-to-use site that makes money from advertising. We have a modified experience for viewers using ad blockers

Wikia is not accessible if you've made further modifications. Remove the custom ad blocker rule(s) and the page will load as expected.