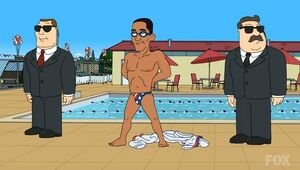 Dave Van Dam, better known as Evil David Letterman, is a celebrity impersonator who has been a recurring feature on Howard Stern's radio show. He is mostly well known for his impersonation of David Letterman.
Dave provides the voice of Barack Obama in "An Incident at Owl Creek".
Ad blocker interference detected!
Wikia is a free-to-use site that makes money from advertising. We have a modified experience for viewers using ad blockers

Wikia is not accessible if you've made further modifications. Remove the custom ad blocker rule(s) and the page will load as expected.