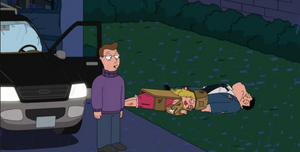 David is a recent neighbor of the Smith's. When Francine attempts to scare Stan by grabbing him while disguised as a car seat in "License to Till", they crash into David's garage. After David introduces himself as their new neighbor, he observes that they probably won't be getting along.
Ad blocker interference detected!
Wikia is a free-to-use site that makes money from advertising. We have a modified experience for viewers using ad blockers

Wikia is not accessible if you've made further modifications. Remove the custom ad blocker rule(s) and the page will load as expected.