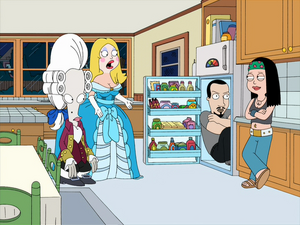 David Blaine (born David Blaine White; April 4, 1973), is an American illusionist and endurance artist. He is best known for his high-profile feats of endurance, and has made his name as a performer of street and close-up magic. He has set and broken several world records.
Roger and Francine return from what they believed to be a masquerade ball to find Hayley with magician David Blaine in an airless refrigerator in "Delorean Story-an". When Blaine collapses and they believe him to be dead, he reveals himself to be fellow magician Criss Angel, to Roger's delight.
Roger gives Hayley the book of David Blaine's life story in "Roger's Baby".
Ad blocker interference detected!
Wikia is a free-to-use site that makes money from advertising. We have a modified experience for viewers using ad blockers

Wikia is not accessible if you've made further modifications. Remove the custom ad blocker rule(s) and the page will load as expected.