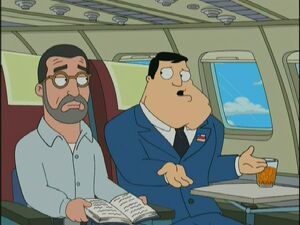 David Alan Mamet is an American author, essayist, playwright, screenwriter, and film director. His works are known for their clever, terse, sometimes vulgar dialogue and arcane stylized phrasing, as well as for their exploration of masculinity. Mamet received Tony Award nominations for Glengarry Glen Ross and Speed-the-Plow, as well as the Pulitzer Prize for Glengarry Glen Ross. As a screenwriter, he received Oscar nominations for The Verdict and Wag the Dog.
Stan gets advice from David on how to defeat car salesman Felix in "Failure is not a Factory-Installed Option".
Ad blocker interference detected!
Wikia is a free-to-use site that makes money from advertising. We have a modified experience for viewers using ad blockers

Wikia is not accessible if you've made further modifications. Remove the custom ad blocker rule(s) and the page will load as expected.