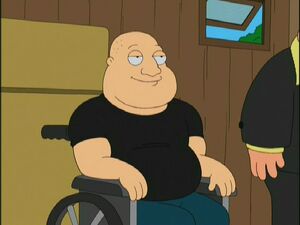 Deaf Teddy is a member of the Handicapped Mafia in "Helping Handis". They pick up Francine after she is rejected for a job at the hospital to save gang member Blind Jimmy. When Francine finds them beating a victim at their headquarters at The Ramp strip club, she wants out but she is told there is no getting out. When Deaf Teddy finds Hayley snooping around for Francine, the gang plans to kill them. Francine talks them into robbing the First National Bank. Although reluctant at first, they are egged on by Francine in a plan to save herself and Hayley by setting them up to fail.
However, Deaf Teddy can be seen outside of the hospital when Stan and Francine return from 1996 in "The Kidney Stays in the Picture".
Ad blocker interference detected!
Wikia is a free-to-use site that makes money from advertising. We have a modified experience for viewers using ad blockers

Wikia is not accessible if you've made further modifications. Remove the custom ad blocker rule(s) and the page will load as expected.