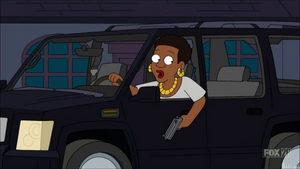 Deborah is a woman who searches for Principal Lewis in "A Ward Show". When Steve Smith finds Lewis loading oranges into the trunk of his car, Principal Lewis almost mistakes him for Deborah who is searching for him. When she cruises by with a gun hanging out of the car, Principal Lewis makes Steve take cover with him.
Deborah is voiced by Tichina Arnold.
Ad blocker interference detected!
Wikia is a free-to-use site that makes money from advertising. We have a modified experience for viewers using ad blockers

Wikia is not accessible if you've made further modifications. Remove the custom ad blocker rule(s) and the page will load as expected.