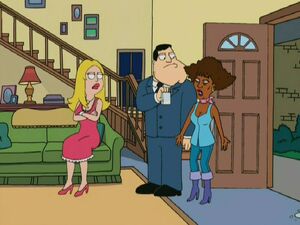 Debra Renee Wilson Skelton (born April 26, 1962), also known as Debra Wilson, Debra Wilson Skelton, or Debra Skelton, is an American comedienne and actress. Wilson is notable for being the second longest-serving original cast member (after Michael McDonald) on the sketch comedy series MADtv, having appeared for the show's first eight seasons. She has also done voice work for the animated series The Oblongs, American Dad!, Family Guy, Gary and Mike, The Proud Family, and Clone High.
Debra provides the voice of Whitney Houston in "Francine's Flashback".
Ad blocker interference detected!
Wikia is a free-to-use site that makes money from advertising. We have a modified experience for viewers using ad blockers

Wikia is not accessible if you've made further modifications. Remove the custom ad blocker rule(s) and the page will load as expected.