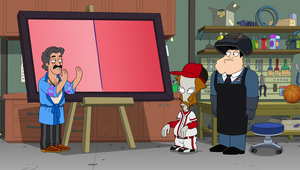 Del Monaco is Roger and Francine's cocaine dealer, as well as an art connoisseur.
When Stan sets out to burn a painting of Francine's vagina after stealing it from the Langley Falls Museum of Art, in "Portrait of Francine's Genitals", Roger convinces him to sell it to a private collector instead where it wouldn't be on public display. However, they are interrupted by Francine and he is told to get out while she rips into Stan. After she storms out, Del Monaco goes to see if he can sell her some drugs before he leaves.
Del Monaco is voiced by Andy Richter.
Ad blocker interference detected!
Wikia is a free-to-use site that makes money from advertising. We have a modified experience for viewers using ad blockers

Wikia is not accessible if you've made further modifications. Remove the custom ad blocker rule(s) and the page will load as expected.