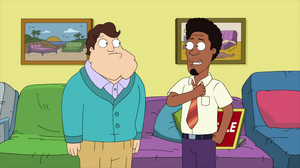 Delroy is the manager of Futon World.
When Francine tries to keep Stan away from his job at the CIA to keep him from remembering his true personality after she gives him a mental makeover in "The Boring Identity", she spots a "Help Wanted" sign at Futon World. Rushing in ahead of Stan, she begs Delroy to give Stan a job to keep his fake memories intact, a task he is quite agreeable too and even embellishes.
He later steers Stan towards an older Navajo woman when he leaves Francine for embarrassing him. When Stan regains his true memory, he avoids the family while continuing to work in commercials at Futon World.
Delroy is also seen at "Familyland" and on the bus in "Cock of the Sleepwalk".
Delroy is voiced by Wayne Brady.
Ad blocker interference detected!
Wikia is a free-to-use site that makes money from advertising. We have a modified experience for viewers using ad blockers

Wikia is not accessible if you've made further modifications. Remove the custom ad blocker rule(s) and the page will load as expected.