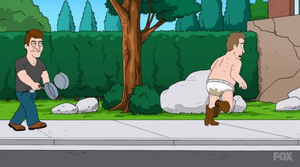 Dennis William Quaid (born April 9, 1954) is an American actor. He became known during the 1980s after appearing in several successful films, including as Mike Brody in Jaws 3-D (1983), Alex Gardner in Dreamscape (1984), Remy McSwain in The Big Easy (1987), Tuck Pendleton in Innerspace (1987), Jefferson "Jeff" Blue in Undercover Blues (1993), Bowen in Dragonheart (1996), Joe Doe/William in Gang Related (1997), Frank Towns in Flight of the Phoenix (2004), Jack Hall in The Day After Tomorrow (2004) and Reverend Shaw Moore in Footloose (2011).
In "Jenny Fromdabloc", Steve and his friends visit Dennis Quaid's house where then encounter Dennis' younger brother Randy Quaid panhandling outside. Dennis emerges from house to chase away Randy.
Dennis is voiced by Scott Grimes.
Ad blocker interference detected!
Wikia is a free-to-use site that makes money from advertising. We have a modified experience for viewers using ad blockers

Wikia is not accessible if you've made further modifications. Remove the custom ad blocker rule(s) and the page will load as expected.