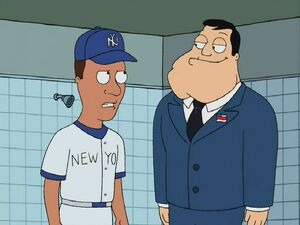 Derek Sanderson Jeter (born June 26, 1974) is an American baseball shortstop who plays in Major League Baseball (MLB) for the New York Yankees, helping them win five Wold Series championships in the process.
In "All About Steve", Derek agrees to meet with Stan, Steve and his friends, apparently having anxiety over an event he can no longer remember due to CIA mind control.
Derek is voiced by Catero Colbert.
Ad blocker interference detected!
Wikia is a free-to-use site that makes money from advertising. We have a modified experience for viewers using ad blockers

Wikia is not accessible if you've made further modifications. Remove the custom ad blocker rule(s) and the page will load as expected.