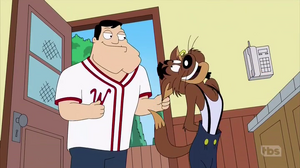 Derrick Stevens, aka Derrick "Delite" Stevens, is a rapper best known for lending his voice as MC Skat Kat after the character went solo. The original album version of "Opposites Attract" did not contain a rap verse. Derrick Delite's rap was featured on the remix and video version of Paula Abdul's "Opposites Attract".
Derrick provides the voice of MC Skat Kat in "Kiss Kiss, Cam Cam".
Ad blocker interference detected!
Wikia is a free-to-use site that makes money from advertising. We have a modified experience for viewers using ad blockers

Wikia is not accessible if you've made further modifications. Remove the custom ad blocker rule(s) and the page will load as expected.