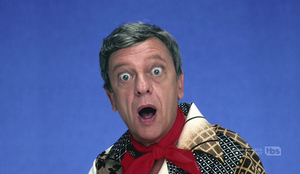 Don Knotts (July 21, 1924 – February 24, 2006) was an Emmy-winning American comedic actor, primarily known for his roles as Deputy Barney Fife on The Andy Griffith Show and landlord Ralph Furley on Three's Company. Knotts also played comedic roles in many movies throughout his career.
As Steve sings a line from "Somebody That I Used to Know" to Snot when he feels like his friend has abandoned him in "Camp Campawanda", a shot of a surprised looking Don Knotts appears as a voiceover notes that American Dad! remembers the singer Gotye.
Ad blocker interference detected!
Wikia is a free-to-use site that makes money from advertising. We have a modified experience for viewers using ad blockers

Wikia is not accessible if you've made further modifications. Remove the custom ad blocker rule(s) and the page will load as expected.