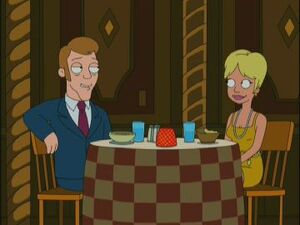 Donald McNicol Sutherland, OC (born 17 July 1935) is a Canadian character actor with a film career spanning over 50 years. Some of Sutherland's more notable movie roles included offbeat warriors in such war movies as The Dirty Dozen, M*A*S*H and Kelly's Heroes. He has also appeared in Invasion of the Body Snatchers (1978) and The Hunger Games franchise.
Determined to stop Jane Fonda's liberal influence from ruining his Christmas, Stan finds her on the set of Klute in "The Best Christmas Story Never". Stan finds out that its really co-star Donald Sutherland that influences her and is determined to stop him, though he only did so as a way to pick up women. She later goes out for a night on the town with Donald Sutherland. Stan attempts to assassinate Donald at Elaine's, a restaurant.
Sutherland is voiced by Greg Berg.
Ad blocker interference detected!
Wikia is a free-to-use site that makes money from advertising. We have a modified experience for viewers using ad blockers

Wikia is not accessible if you've made further modifications. Remove the custom ad blocker rule(s) and the page will load as expected.