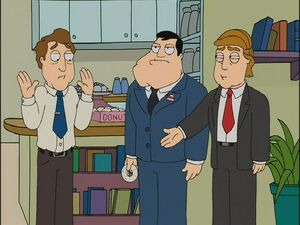 Donald John Trump (born June 14, 1946) is an American business magnate, socialite, author and television personality. He is the Chairman and CEO of the Trump Organization, a US-based real-estate developer. Trump is also the founder of Trump Entertainment Resorts, which operates numerous casinos and hotels across the world and was elected as the 45th President of the United States in 2016.
When Stan puts Exposition Realty out of business through a fake drug bust in "Threat Levels", Stan tells the manager "You're fired" prompting Donald Trump to show up demanding payment for using his catch phrase from The Apprentice. Later, he insincerely tells Francine its too bad she got fired and Donald shows up again, prompting Stan to chide him because its not the same usage or phrasing.
Ad blocker interference detected!
Wikia is a free-to-use site that makes money from advertising. We have a modified experience for viewers using ad blockers

Wikia is not accessible if you've made further modifications. Remove the custom ad blocker rule(s) and the page will load as expected.