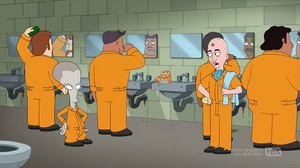 Donkeyballs is one of the prisoners that Klaus is incarcerated with in "Kloger" when Roger tells a police officer that a lolita persona that he arranged to be adopted by Klaus is sleeping with him.
When Roger gets himself arrested to continue to be with Klaus, he exclaims "donkeyballs," which draws the attention of a prisoner of the same name who inquires if he'll see him at rehearsals for My Fair Lady.
Donkeyballs is voiced by H. Michael Croner.
Ad blocker interference detected!
Wikia is a free-to-use site that makes money from advertising. We have a modified experience for viewers using ad blockers

Wikia is not accessible if you've made further modifications. Remove the custom ad blocker rule(s) and the page will load as expected.