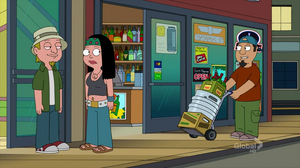 Donny is a liquor store delivery man who gets an easy run to Vince Chung's party in "Adventures in Hayleysitting". As Hayley and Jeff Fischer search for Steve and his friends who headed off to the party, they pass the liquor store where Donny tells exactly how to get to the party where they can hear.
Ad blocker interference detected!
Wikia is a free-to-use site that makes money from advertising. We have a modified experience for viewers using ad blockers

Wikia is not accessible if you've made further modifications. Remove the custom ad blocker rule(s) and the page will load as expected.