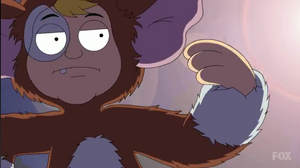 Doug is a nine year old boy that Akiko announces she has a crush on when Steve manages to convince Toshi to let her live her life in "Best Little Horror House in Langley Falls".
When Steve gets a crush on Akiko, they are forced to flee from Toshi to Vince Chung's Halloween party. Thinking he can open up to Akiko, Steve is stunned when she announces she always wanted to go out with Doug because he is a great dancer. Doug's costume is Gizmo the Mogwai from Gremlins.
Ad blocker interference detected!
Wikia is a free-to-use site that makes money from advertising. We have a modified experience for viewers using ad blockers

Wikia is not accessible if you've made further modifications. Remove the custom ad blocker rule(s) and the page will load as expected.