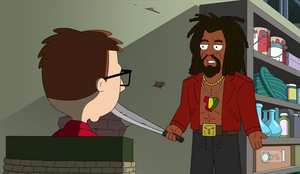 Drake is the leader of a Bahamanian drug gang in "Bahama Mama".
When Steve and Klaus are kidnapped after stepping away from the Atlantis Resort, they are threatened with death by Drake because of being suspected DEA agents. Steve manages to save themselves when he confesses to hopefully become an uncle as Hayley and Jeff have come to the island in hopes of conceiving a child. Instead of being killed, Drake admits he is also an uncle and they are put in supervisor positions. When drug shortages become apparent due to Klaus indulgence, Steve and Klaus are rescued from death by the kids club at the resort that they spurned.
Drake is voiced by Jeffrey Anderson-Gunter.
Ad blocker interference detected!
Wikia is a free-to-use site that makes money from advertising. We have a modified experience for viewers using ad blockers

Wikia is not accessible if you've made further modifications. Remove the custom ad blocker rule(s) and the page will load as expected.