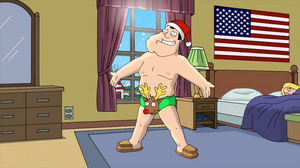 The theme song is rethemed for Christmas in this episode.
Stan apparently fails to return in time for the family photo. The invitation is sent out with his driver's license image added to the picture.
According to that picture, Stan is not an organ donor.
The song that plays during Stan and Roger's ride is "Good Time" by Owl City featuring Carly Rae Jepsen.
After shooting Stan, the CIA agents walk away whistling "Joy to the World".
The episode ends with the 1954 version of "Home for the Holidays" by Perry Como.
Artwork in the style of Patrick Nagel can be seen in the newly-single Stan's house.
Roger mentions Seth MacFarlane's film Ted when naming films in which the character needs to learn a lesson.
The preferred pronunciation of "Porsche" is "Porsh-uh" since its founder was German.[1]
Stan claims he never saw It's a Wonderful Life, and yet in "Stan of Arabia: Part 2", he has an It's a Wonderful Life-themed fantasy sequence.
Ad blocker interference detected!
Wikia is a free-to-use site that makes money from advertising. We have a modified experience for viewers using ad blockers

Wikia is not accessible if you've made further modifications. Remove the custom ad blocker rule(s) and the page will load as expected.