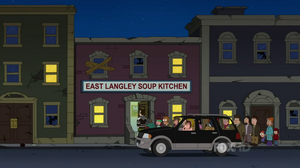 The East Langley Soup Kitchen is where Stan tries to get a meal following his departure from home after being unable to stand spending Thanksgiving with his in-laws in "Kung Pao Turkey".
Shirley sends Stan away for not being homeless, noting his wedding ring and otherwise well-groomed appearance. Her former boss tries to talk her into returning to the police force as a detective but she feels she can make more of a difference monitoring the lines at the soup kitchen for those that are not truly homeless.
Ad blocker interference detected!
Wikia is a free-to-use site that makes money from advertising. We have a modified experience for viewers using ad blockers

Wikia is not accessible if you've made further modifications. Remove the custom ad blocker rule(s) and the page will load as expected.