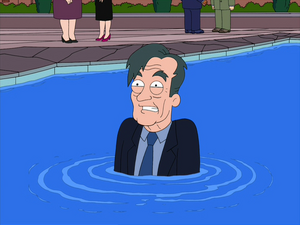 Eliezer "Elie" Wiesel KBE (September 30, 1928 – July 2, 2016) was a writer, professor, political activist, Nobel Laureate and Holocaust survivor. He was the author of 57 books, including Night, a memoir that describes his experiences during the Holocaust and his imprisonment in several concentration camps.
Elie Wiesel appears at a party hosted by Avery Bullock that Greg Corbin and Stan attend in "Daddy Queerest". A drunk Stan asks him if he can swim and pushes him into the pool. After correcting Stan about his name, he proves to be an excellent swimmer.
Elie Wiesel is voiced by Curtis Armstrong.
Ad blocker interference detected!
Wikia is a free-to-use site that makes money from advertising. We have a modified experience for viewers using ad blockers

Wikia is not accessible if you've made further modifications. Remove the custom ad blocker rule(s) and the page will load as expected.