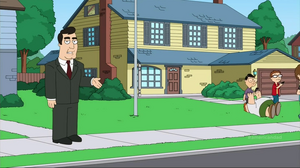 Eric Schermerhorn (born April 11, 1961) is an American voice over actor, performing with Iggy Pop, David Bowie and They Might be Giants. As a voice actor, he is known as the promo voice for the soap Doctors.
Eric provides assorted voices in American Dad!, including Randy in "I Ain't No Holodeck Boy".
External Links
Ad blocker interference detected!
Wikia is a free-to-use site that makes money from advertising. We have a modified experience for viewers using ad blockers

Wikia is not accessible if you've made further modifications. Remove the custom ad blocker rule(s) and the page will load as expected.