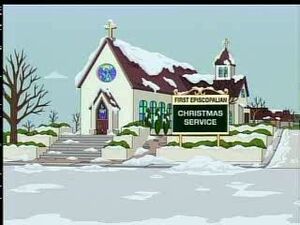 The First Episcopalian Church is where the Smith Family attend services. Father Donovan is the priest, often cutting services short to go fishing.
Stan becomes a church Deacon in "Deacon Stan, Jesus Man".
In "Rapture's Delight", Stan and Francine have sex in the janitor's closet and miss out on The Rapture.
Ad blocker interference detected!
Wikia is a free-to-use site that makes money from advertising. We have a modified experience for viewers using ad blockers

Wikia is not accessible if you've made further modifications. Remove the custom ad blocker rule(s) and the page will load as expected.