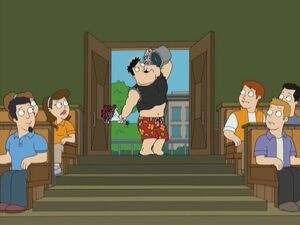 Stan arrives at Jessica's class at Rutgers singing Fly by Sugar Ray in "Spring Break-Up" when he attempts to convince her to come back and keep partying with him. Sugar Ray itself appeared at Roger's Spring Break party playing Fly although that performance was not specially recorded for the episode.
Lyrics
Stan: I...just want to fly
Whichi whici wow Whichi whici wow
All around the world, statues crumble for me...
Ad blocker interference detected!
Wikia is a free-to-use site that makes money from advertising. We have a modified experience for viewers using ad blockers

Wikia is not accessible if you've made further modifications. Remove the custom ad blocker rule(s) and the page will load as expected.