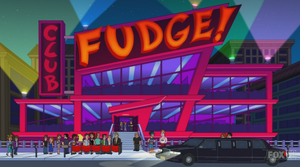 Fudge! is a bar that Roger visits in his persona of "Legman" in "Wheels & the Legman and the Case of Grandpa's Key". after a night at Fudge!, he tells his friend and confidant Teddy Bonkers about celebrating Sean's birthday at the club. When Steve as "Wheels" tells him that Stan has joined in their fantasy as "Papa Wheelie", Roger says he's going to Fudge! and returns to the club where he is asked if he wants to go home with another guy but Roger insists on just dancing.
Ad blocker interference detected!
Wikia is a free-to-use site that makes money from advertising. We have a modified experience for viewers using ad blockers

Wikia is not accessible if you've made further modifications. Remove the custom ad blocker rule(s) and the page will load as expected.