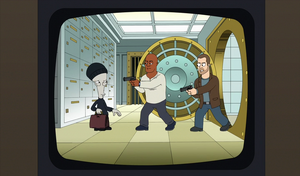 G. Callen and Sam Hanna are two fictional characters from NCIS: Los Angeles.
While trying to help Roger recall why he wishes to take revenge on Jay Leno in "Casino Normale", Hayley and Steve believe it is due to being embarrassing interview in which Jay made Roger look like a fool. Roger dismisses the idea, noting that a casting agent saw the spot and booked Roger in a guest spot on NCIS: LA. Roger is stopped in the middle of a vault heist by Callen and Hanna, here he promptly looses his pants, causing the pair to chuckle about such things only happening in LA.
G. Callen and Sam Hanna are performed by their original actors, Chris O'Donnell and LL Cool J.
Ad blocker interference detected!
Wikia is a free-to-use site that makes money from advertising. We have a modified experience for viewers using ad blockers

Wikia is not accessible if you've made further modifications. Remove the custom ad blocker rule(s) and the page will load as expected.