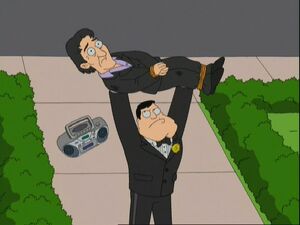 Gabriel James Byrne is an Irish actor, film director, film producer, writer, and audiobook narrator. His acting career began in the Focus Theatre before he joined London's Royal Court Theatre in 1979. Byrne's screen début came in the Irish soap opera The Riordans and the spin-off show Bracken. The actor has now starred in over 35 feature films, such as The Usual Suspects, Miller's Crossing and Stigmata. Byrne's producing credits include the Academy Award-nominated In the Name of the Father.
Stan, or rather Stan's double Bill, attempts to impress Francine by holding Peter Gabriel, above his head singing Peter Gabriel's "In Your Eyes" in "It's Good to Be the Queen". However, the character is in fact Gabriel Byrne. When Byrne finally tells "Stan" that he took the wrong Gabriel, "Stan" throws him aside.
Ad blocker interference detected!
Wikia is a free-to-use site that makes money from advertising. We have a modified experience for viewers using ad blockers

Wikia is not accessible if you've made further modifications. Remove the custom ad blocker rule(s) and the page will load as expected.