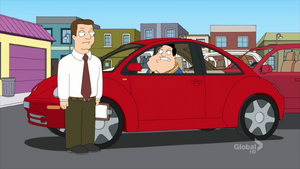 Gary is a rental car agent in "The Wrestler". When Stan Smith enrolls in Pearl Bailey High School to protect his high school wrestling record, he rents a car to give the image of a student. When Principal Lewis tells him he doesn't need to actually attend class, he tries to get his money back on the car but an agent refuses to give him a refund. Stan tries to go to Gary, but the first agent yells over for him to not to allow Stan the return.
Ad blocker interference detected!
Wikia is a free-to-use site that makes money from advertising. We have a modified experience for viewers using ad blockers

Wikia is not accessible if you've made further modifications. Remove the custom ad blocker rule(s) and the page will load as expected.