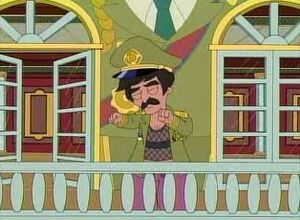 Hector Aldozar was the best dancer in Isla Island when Roger, posing as General Juanito Pequeño in "Moon Over Isla Island" changed the name of the country to 'Bananarama'.
After the already deceased General Pequeño was ousted as ruler, Hector took the title of General, gaining full leadership of the country. Unfortunately, it was later revealed that he became the most bloodthirsty ruler in Isla Island's history, earning the nickname 'The Dancer of Death'.
The General appears in "Crotchwalkers", working at The Gash Sweatshop.
Ad blocker interference detected!
Wikia is a free-to-use site that makes money from advertising. We have a modified experience for viewers using ad blockers

Wikia is not accessible if you've made further modifications. Remove the custom ad blocker rule(s) and the page will load as expected.