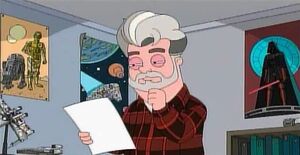 George Walton Lucas, Jr. is an Academy Award-nominated American film producer, screenwriter, director and founder/chairman of Lucasfilm Ltd. He is best known for being the creator of the epic science fiction franchise Star Wars and joint creator of the archaeologist-adventurer character Indiana Jones. Today, Lucas is one of the American film industry's most financially successful independent directors/producers, with an estimated net worth of $3.0 billion as of 2009.
Roger's life flashes before his eyes when he drunkenly wanders into the path of an oncoming bus in "You Debt Your Life". He recalls getting a thumbs up from George Lucas for his design of Jar Jar Binks.
Ad blocker interference detected!
Wikia is a free-to-use site that makes money from advertising. We have a modified experience for viewers using ad blockers

Wikia is not accessible if you've made further modifications. Remove the custom ad blocker rule(s) and the page will load as expected.