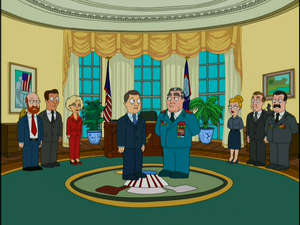 Geraldine Anne Ferraro (August 26, 1935 – March 26, 2011) was an American attorney, a Democratic Party politician, and a member of the United States House of Representatives. She was the first female vice presidential candidate representing a major American political party.
She can be seen in a red suit when Walter Mondale becomes President with her as Vice-President in "The Best Christmas Story Never" after Stan alters history. Unfortunately, she is also present when Mondale surrenders power to Konstantin Chernenko.
Ad blocker interference detected!
Wikia is a free-to-use site that makes money from advertising. We have a modified experience for viewers using ad blockers

Wikia is not accessible if you've made further modifications. Remove the custom ad blocker rule(s) and the page will load as expected.