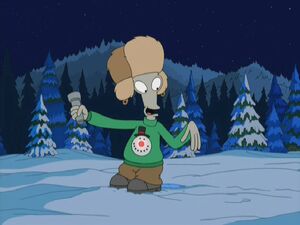 Roger decides to play with the adjustable light on his sweater and sings a hip-hop version of God Rest Ye Merry Gentlemen in "The Most Adequate Christmas Ever" to pretend he's at a dance club while Stan insists on searching for the perfect Christmas tree.
Lyrics
G-G-God rest ye merry gentleman
I'm going to blow your mind
eh eh eh eh oh oh oh oh eeee eeee eeee eeee ahh ahh ahh ahh
Ping ping bong bong ping ping bong bong
Ad blocker interference detected!
Wikia is a free-to-use site that makes money from advertising. We have a modified experience for viewers using ad blockers

Wikia is not accessible if you've made further modifications. Remove the custom ad blocker rule(s) and the page will load as expected.