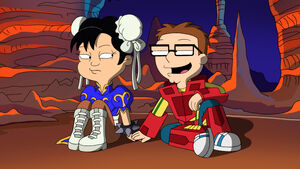 Grace Park (born March 14, 1974) is an American-born Canadian actress. She is best known as Sharon Valerii on Battlestar Galactica, as well as Shannon Ng in the Canadian television series teen soap Edgemont. Currently, Park plays detective Kona "Kono" Kalakaua in CBS' remake of Hawaii Five-0.
Grace took over the role of Akiko beginning with the episode "Best Little Horror House in Langley Falls".
Ad blocker interference detected!
Wikia is a free-to-use site that makes money from advertising. We have a modified experience for viewers using ad blockers

Wikia is not accessible if you've made further modifications. Remove the custom ad blocker rule(s) and the page will load as expected.