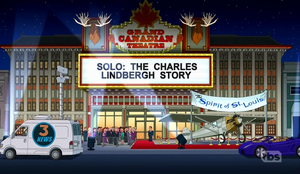 The Grand Canadian Theatre is where the premier of "Steve"'s film, Solo: The Charles Lindbergh Story is held in "Fight and Flight".
When Steve earns an "F" grade on a history test, Stan decides to "help" him out in a presentation film about Charles Lindbergh. Stan takes it to the next level by acquiring a CIA sound stage, hiring actor Vin Diesel and steals the original Spirit of St. Louis from the Smithsonian. He further takes liberties with historical accuracy and changes the film into an action-thriller to Steve's frustration.
Ad blocker interference detected!
Wikia is a free-to-use site that makes money from advertising. We have a modified experience for viewers using ad blockers

Wikia is not accessible if you've made further modifications. Remove the custom ad blocker rule(s) and the page will load as expected.