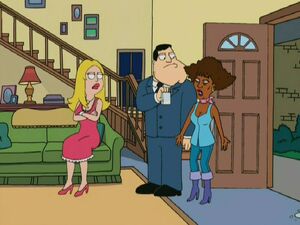 "Greatest Love of All" is an inspirational song written by Michael Masser and Linda Creed and performed first by George Benson and later, Whitney Houston.
When Stan misses his and Francine's anniversary to go on a CIA fishing trip in "Francine's Flashback", he shows up home looking to make amends with an excuse that he did not forget and had just been trying to throw Francine off; and brings with him singer Whitney Houston for a private performance, in exchange for a fix of cocaine. She sings part of her hit "Greatest Love of All" before she breaks down from too much cocaine before leaving.
Lyrics
Whitney: No matter what they take from me
They can't take away my dignity
Ad blocker interference detected!
Wikia is a free-to-use site that makes money from advertising. We have a modified experience for viewers using ad blockers

Wikia is not accessible if you've made further modifications. Remove the custom ad blocker rule(s) and the page will load as expected.