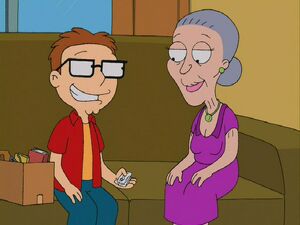 Gretchen Grossbard is a friend to Stan's pretend father Grandpa Smith who becomes a lover to Steve and Snot in "Con Heir", claiming "monogamy is for girls in their 60's." It is later revealed she had not consummated the relationship.
She sings a tribute to her sister, Irene in "Phantom of the Telethon".
Gretchen is voiced by Sherry Weston in "Con Heir" and by Laura McCreary in "Phantom of the Telethon".
Ad blocker interference detected!
Wikia is a free-to-use site that makes money from advertising. We have a modified experience for viewers using ad blockers

Wikia is not accessible if you've made further modifications. Remove the custom ad blocker rule(s) and the page will load as expected.