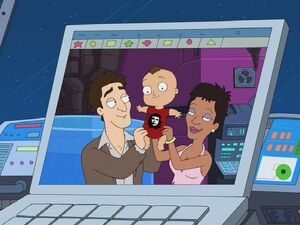 Halle Berry is an American actress, former fashion model, and beauty queen. Berry received an Emmy, Golden Globe, SAG, and an NAACP Image award for Introducing Dorothy Dandridge and won an Academy Award for Best Actress and was also nominated for a BAFTA Award in 2001 for her performance in Monster's Ball.
Halle Berry appears with Adrien Brody as celebrities that adopt babies in "Tearjerker".
Stan responds to Klaus' riddle by referencing Berry in "Dr. Klaustus".
Ad blocker interference detected!
Wikia is a free-to-use site that makes money from advertising. We have a modified experience for viewers using ad blockers

Wikia is not accessible if you've made further modifications. Remove the custom ad blocker rule(s) and the page will load as expected.