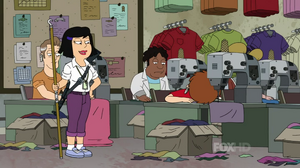 Harper is an employee & straw boss at The Gash Sweatshop. When Steve is forced to work in the shop after getting caught attempting to shoplift at The Gash in "Crotchwalkers", he inquires as to the union representative, prompting a beating by Matilda as she wears a misleading smile.
Harper is voiced by Melanie Paxson.
Ad blocker interference detected!
Wikia is a free-to-use site that makes money from advertising. We have a modified experience for viewers using ad blockers

Wikia is not accessible if you've made further modifications. Remove the custom ad blocker rule(s) and the page will load as expected.