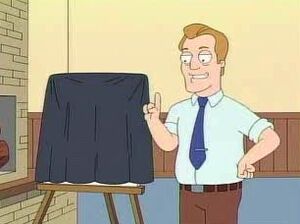 Harvey Iles is an insurance salesman that Stan hires for Steve's 14th birthday party to teach the kids responsibility in "Man in the Moonbounce". He ends up boring everyone.
Harvey is voiced by Rob Riggle.
Ad blocker interference detected!
Wikia is a free-to-use site that makes money from advertising. We have a modified experience for viewers using ad blockers

Wikia is not accessible if you've made further modifications. Remove the custom ad blocker rule(s) and the page will load as expected.