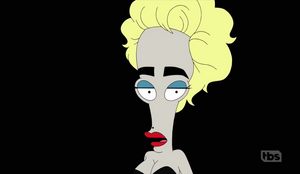 "Hayley Don't Freak" is a parody of "Papa Don't Preach", originally sung by Madonna. Here, it is sung by Roger as he reconsiders being a surrogate "mother" to Jeff in "Roger's Baby", renaming the impending man-child "Tristen."
Lyrics
Hayley, I know you're gonna be upset
'Cause you need me to birth human Jeff
But you should know by now that I'm a bit crazy
You helped to show me what I want
My goal in life is to be a mom
We're in this, him and me
And I don't need Hayley
Hayley don't freak, I'm in trouble deep
Hayley don't freak, I need booze to sleep
And I made up by mind
I'm keeping my baby
I'm gonna keep my Tristen
Mmmmm, mmmmm...
Ad blocker interference detected!
Wikia is a free-to-use site that makes money from advertising. We have a modified experience for viewers using ad blockers

Wikia is not accessible if you've made further modifications. Remove the custom ad blocker rule(s) and the page will load as expected.