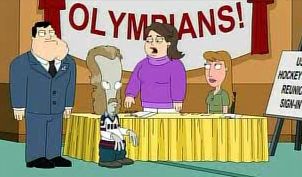 Helen is a hostess at the La Quinta Inns and Suites reunion of the 1980 US Olympic Hockey Team in the episode "The Return of the Bling" when Roger reveals he was part of the team in his persona of Chex LeMeneux. Stan refuses to accept it until Roger takes him to the team reunion. Helen is disappointed that Roger as Chex never asked her to accompany him and runs off in tears to which Roger yells its because she is fat. Later however, an intoxicated Roger awakes to find her naked in his bed.
She is voiced by Megan Hilty.
Ad blocker interference detected!
Wikia is a free-to-use site that makes money from advertising. We have a modified experience for viewers using ad blockers

Wikia is not accessible if you've made further modifications. Remove the custom ad blocker rule(s) and the page will load as expected.