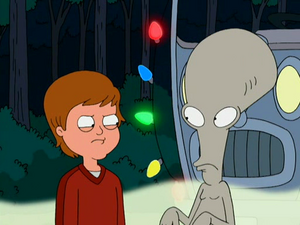 Henry is a 9 year old boy that wants to adopt Roger as 'his alien' in "A.T. The Abusive Terrestrial".
When Roger feels left out because Steve isn't interested in him, Roger goes on a drinking binge and passes out in Henry's shed. When he awakes, he is at first happy to find someone that wants to be with him. But later when Roger's short attention span kicks in and he no longer wishes to play games, he finds that Henry has an abusive side and beats Roger. Roger tries repeatedly to get away but Henry always apologizes and lures Roger back. When Steve tries to intervene, Henry threatens to notify the authorities that they've been harboring an alien. Roger and Steve come up with a plan to pretend that Roger is going back to his home planet. The plan nearly falls apart when Steve starts to choke on the chemicals he mixed for special effects and Henry believes that Roger is ditching him to take Steve back to his planet instead. Henry promises to change and Roger nearly goes along with it until Steve promises not to treat him as merely 'his alien' but as his friend. When Roger tries to resist Henry, Henry becomes abusive again until Roger kicks him in the groin and leaves with Steve.
Henry is voiced by Masam Holden.