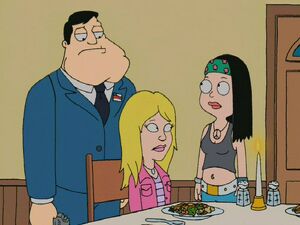 Hilary Erhard Duff is an American actress and recording artist. After working in local theater plays and television commercials in her childhood, Duff gained fame for playing the title role in the television series Lizzie McGuire. Duff subsequently ventured into feature films, with her most commercially successful movies being Cheaper by the Dozen, The Lizzie McGuire Movie, and A Cinderella Story.
Hilary Duff appears in the Pilot episode of American Dad! when Stan kidnaps her for a date with Steve. When she makes a run for it, she sets off land mines outside the house.
Hilary is voiced by Natasha Melnick.
Ad blocker interference detected!
Wikia is a free-to-use site that makes money from advertising. We have a modified experience for viewers using ad blockers

Wikia is not accessible if you've made further modifications. Remove the custom ad blocker rule(s) and the page will load as expected.