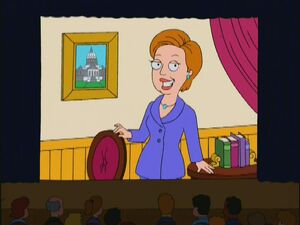 Hillary Diane Rodham Clinton was the 67th United States Secretary of State, serving in the administration of President Barack Obama. She was a United States Senator for New York from 2001 to 2009. As the wife of the 42nd President of the United States, Bill Clinton, she was the First Lady of the United States from 1993 to 2001. In the 2008 election, Clinton was a leading candidate for the Democratic presidential nomination.
Hillary Clinton appears in Hayley's student film comparing famous women to her mother in "Helping Handis".
Ad blocker interference detected!
Wikia is a free-to-use site that makes money from advertising. We have a modified experience for viewers using ad blockers

Wikia is not accessible if you've made further modifications. Remove the custom ad blocker rule(s) and the page will load as expected.